Product Description - Ptfe Heat Seal Oil Resistant Tape
High temperature teflon tape is a fiberglass fabric impregnated with PTFE dispersion and coated with high-temperature, pressure-sensitive acrylic adhesive. It is very durable and versatile product. The combination of PTFE, fiberglass and high temperature acrylic adhesive allows Teflon adhesive tape to perform in continuous temperatures up to 500F. It is dimensionally stable and resistant to tears, punctures, abrasion and wear. It will not cold flow under heavy loads.

Specification for Ptfe Heat Seal Oil Resistant Tape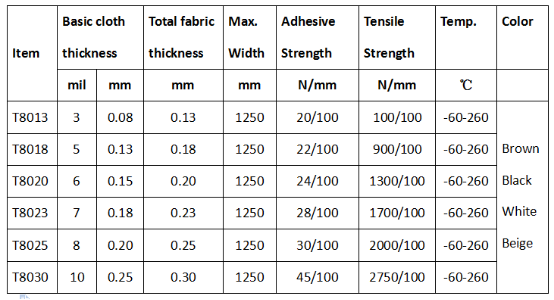 PTFE Fabric tap Characteristic :
1). excellent heat resistance
2). non-stick surface
3). chemical and corrosion resistance
4). excellent insulating performance
5). non-toxic, long service life

Fabric Tap Application:
high temperature teflon tapes is frequently used by the packaging industry as a release surface on heat sealers, blister formation and form-fill-seal equipment. The durability and anti-stick properties of it also make it an ideal material for the lining of guide rails, chutes, and slides. The high temperature capabilities and non-stick properties of Teflon adhesive tape allow it to perform as an excellent release surface in the composite aircraft industry.